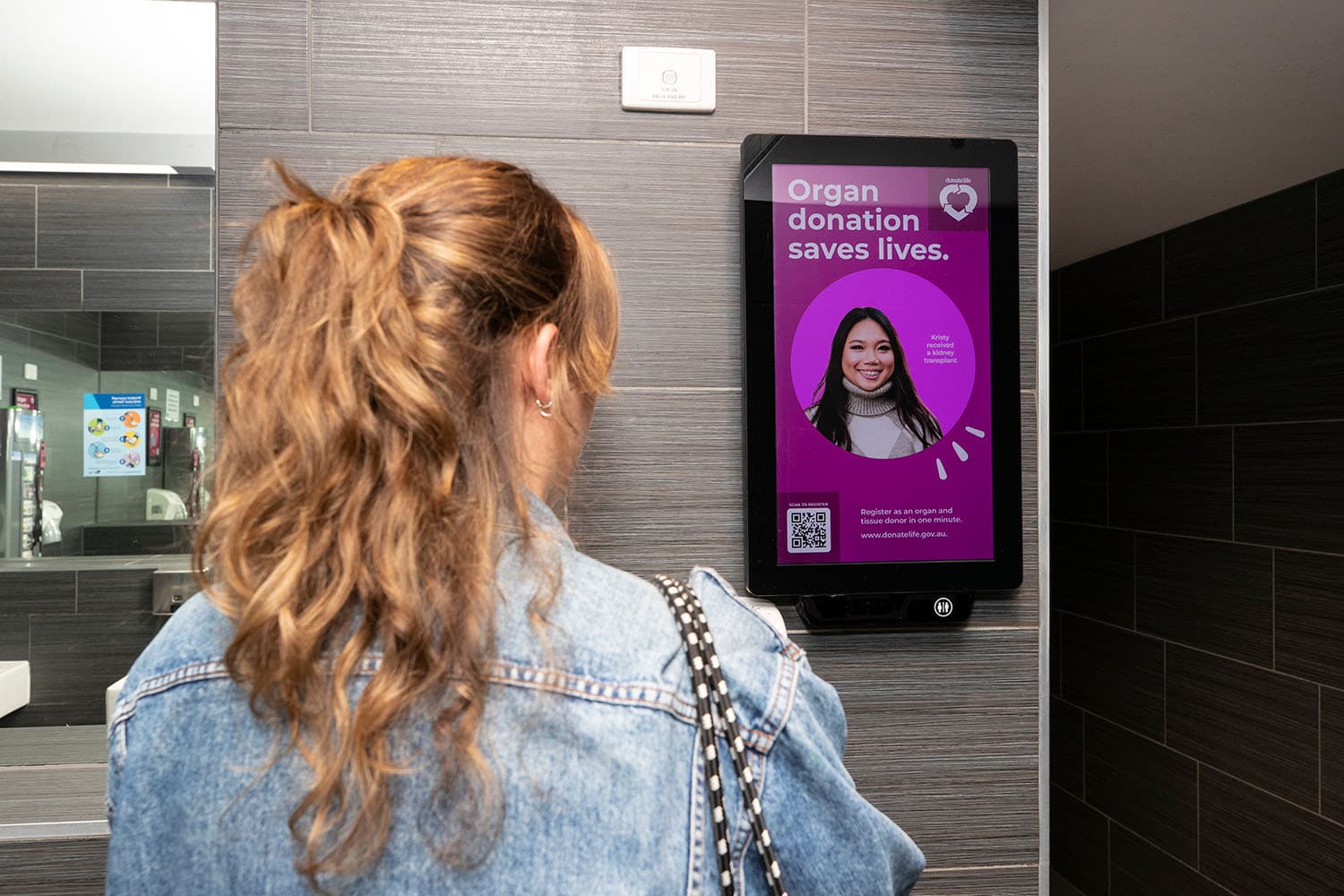 How bathroom advertising helped DonateLife reach 5,000 registered organ donors
Case Study – DonateLife
Industry · Government
About DonateLife
DonateLife is an Australian Government program aiming to save and improve the lives of more Australians through organ and tissue donation.
Since the national program first began in 2009, an incredible 16,700+ people have received life-saving organ transplants from 5,900+ deceased organ donors.
With over 1,800 people on the transplant waitlist, DonateLife aims to raise awareness, increase family discussion, and increase registration for organ and tissue donation.
Challenge
While the majority of Australians support organ and tissue donation, only 36% are registered to be a donor.
Organ donation is a sensitive subject, therefore increasing awareness needs to be handled in a sensitive manner. DonateLife required a strategy that could reach the general population at scale, while being mindful of the situation an individual may be in when taking in the message.
With the number of donors and people who have received a transplant dropping by 15% since the COVID-19 outbreak in 2020, DonateLife aims to return donation and transplantation activity to pre-pandemic levels and to drive further improvements over the next five years.
Approach
The bathroom, and even more so the toilet cubicle space, offers a private, uninterrupted, safe environment for individuals to be more receptive and interact with a message. With an average of two minutes spent in a bathroom, there would be enough time for bathroom-goers to not only read the entire DonateLife A4 ad – it would be enough time for someone to spend the one minute it takes to become an organ donor.
A unique QR code based on gender and state was included on every ad, allowing DonateLife to understand who was interacting with their campaign, and directing the scanners to the registration page on the DonateLife website.
Using the Convenience Advertising channel, DonateLife can saturate the market geographically and demographically – reaching millions of Australians potentially dozens of times over a 12-month period.
Venues: 800+ Shopping Centres, Airports, Pubs and Clubs, Universities and TAFEs
Locations: Australia-wide
Duration: Ongoing
Results
Using the Convenience Advertising channel between July 2021 – July 2023, DonateLife have achieved:
5k

organ and tissue donor registrations

16.7%

QR code scan to registered organ donor conversion rate

35k

potential lives saved or changed in the future
Ready to learn more?
Get in touch and a bathroom advertising specialist will be in touch within one business day.
Get in touch